Hi,
I have posted here before on the canal street page and through I would put up a dedicated page and see if any one was able to help find out some family information regarding my recently deceased dad James Maher - Also known as Marvin.
He lived with his extended family the Wainright's in 22 Canal street with his unmarried mum Elizabeth Maher (lizzy) who was a ships cleaner at the time, her mother was Mary McDonald and father was Joseph Maher. My dad was born in december of 1945 2-3 months prematurely (so we are told). After leaving school he was an apprentice for one of the local building companies and played in several bands in the area as a drummer. I have recently been trying to find out who his father was was fortunate enough that he took a DNA test on the geanology websites before he passed away - however it does not really bring us any answers or any closer to knowing anything about who his father would have been although it does throw up lots of names that we do not recognise in the family.
The family where always very tight lipped about this and it was never discussed but I am sure there is someone out there who would know the real story. Does anyone recognise anyone in the pictures and would have any thoughts or ideas ? I know many many people knew her husband Arthur - based on the amount of people that wanted to come to his funeral it would appear he also had a story that we didn't really know - so I'm sure someone who knew him may even know the truth.
He went to St Winefrieds SM Boys around 57/61,and when he left he worked as an apprentice for Tysons Builders as an apprentice bricklayer studying at St James for night school and Bootle Tech college finishing up around 65. After that he worked in the stock office of Kirby car sales for 3 years.
Thanks !
Elizabeth Maher (Later Married to Arthur Seagraves)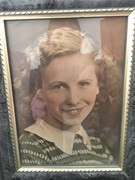 Lizzy & Arthur Seagraves about 1982.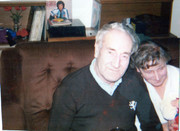 James Maher (Marvin / Dad) and my Mum.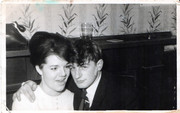 Dads first communion photo.