The Armistice on the Eastern Front between Germany and Russia was signed 15/12/1917 followed by a Peace Treaty at Brest Litovsk on 03/03/1918
The Armistice on the Middle East Front was signed in Mudros Harbour, of Greek Island Lemnos on 30/10/1918 between Britain and The Ottoman Turks.
The Armistice on the Italian Front was signed at Villa Guist, Padau, Veneto on 3/11/1918 between The Italians and The Austrian/Hungarians.
The German Kaiser : Abdicated on 09/11/1918
The Armistice on the Western Front was signed at Compiegne, France at 5.45 a.m. on 11/11/1918
A message was sent at 6 a.m. to cease fire at 11.00 a.m.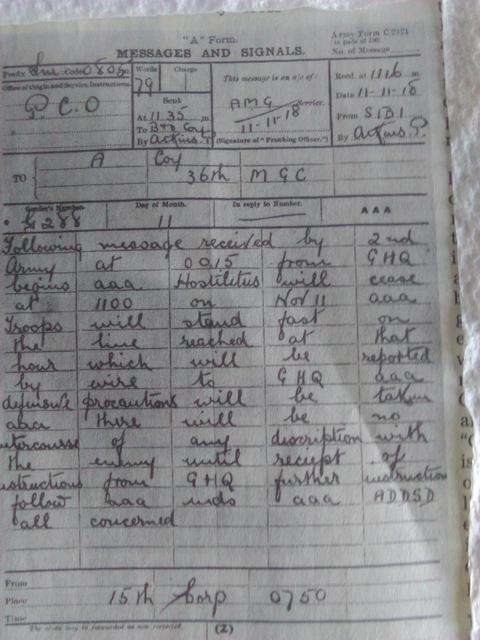 We use the Phrase "The Guns became silent," well they didn't till 11.00 a.m.
Upon receiving the Message to cease at 11a.m. per Col.Gowenbrook:
"every battery in the world was trying to burn up its guns and that the men on both sides had decided to give each other all they had = Their Farewell to Arms"
Then, the guns went silent at 11am
No doubt many were killed and injured in those final few hours unnecessarily.
The last British Soldier killed that morning was Pte George Edwin Ellison of the 5th Lancers he had survived 4 years there.
Although there was a cease fire on the Western Front on 11/11/18 WW1 did continue in other parts throughout the World.
The Besieged Turks at Medina did not stop and Surrender until 10/01/1919
Lawrence and Feisal had kept 8,000 Turkish Troops out of the Fighting from June 1916 to January 1919 just to keep the Hejaz Railway maintained for the Arabs to loot and hold up Turkish Troop movement.
The First World War Finally Officially Ended on 28 June 1919 ,with the Treaty of Versailles
Five years to the day the Archduke was Assassinated on 28 June 1918 in an open top car Reg.No. A 11.11.8
Bootle lost 1007 Men and Women in WW1
per CWGC decision, anyone dying of wounds in the period
4/08/1914 to 31/08/1921
could be included on a War Memorial.
Bootle unveiled theirs on 15/10/1922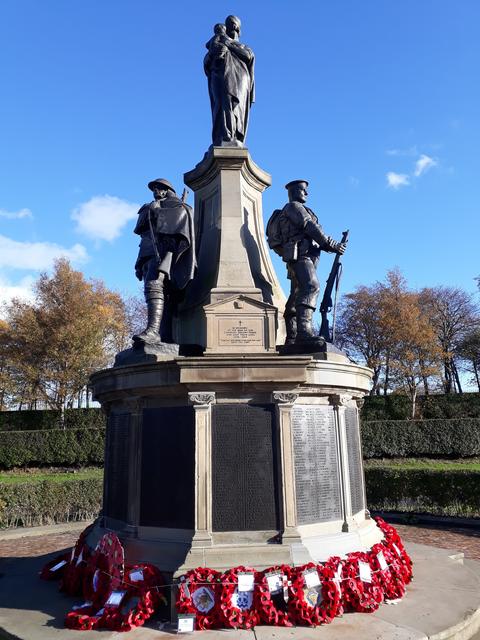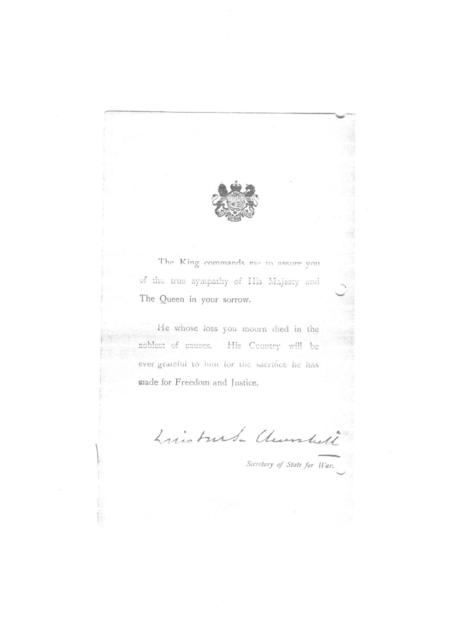 Letter Mrs McKay of 39 Olivia Street sent to her Nephew James Daulby Harrison who joined the Seaforth Highlanders rather than the Kings.
He lived with her at that address and her letter was returned unopened with this Churchill letter as James had been killed on The Somme on 14/07/1916
His brother John Henry Harrison of the Cheshire Regt. was killed at Arras, France, on 24/03/1918 he was born at 9 Orlando St.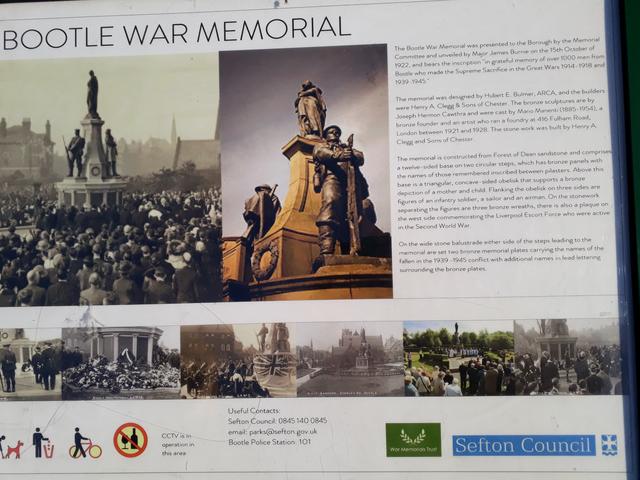 To the left of the Memorial, I am assuming it is the rear of the House known as 51 Balliol Road corner of Stanley Road where I was born 27 years later at Bootle Maternity Hospital.