Fletcher Foster
Part Three -
Finally as Promised :-
The First Birth Certificate that I have seen, that shows Place of Birth as - "Workhouse Walton Liverpool"
Later Certificates show 107 Rice Lane Walton
Ellen Booth a Single Unmarried Domestic Servant gives Birth on 11 March 1897 a Baby Boy at the Workhouse
By Law and Unmarried she has to Register the Birth in Her Own Birth Name = Booth
Ellen decides to give the Baby Two Christian Names = George and Foster
It was Tradition to include usually the Mother's Maiden Name as a Second Christian Name so that the Surname is Not Lost in History because of Marriage
She must have had a Bad Birth hence George not born at Home but was rushed to a Hospital
She was still unwell on 27 March 1897 some 16 days later - so The Hospital Matron went to the Registrar in Brougham Terrace to Register the Birth on her behalf.
Fletcher was obviously not able to loose a day's pay and take Time Off Work from Wigan ?
The Birth Certificate says she was a Domestic Servant
He was Called
at School George F Foster
He was known locally as George Foster
He joined the Army as George Foster
He started working for the Railway as George Foster
He Married as George Foster
He Died as George Foster
He however in Law he was never George Foster but rather George Booth
Though Biologically Both Parents were His as I said All along despite what people "Said"
And Ellen brought George Up and Not Fletchers First Wife who Died 13 Months Prior to George's Birth
She DID Die in Childbirth but giving Birth to Horace who did Not die in Infancy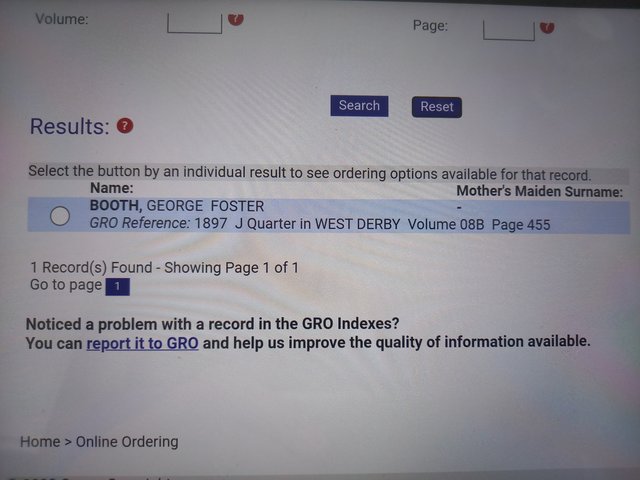 Been waiting 10 days for this Ordered and told 4 days Max for PDF version emailed in 4 days
It has been 10 days or 8 Working Days not 4